This postcard is sent from АЙСТЕРНЪ [AISTERN]. This is the Russian indication for Aiztere in present Latvia.
The German indication is Aistern.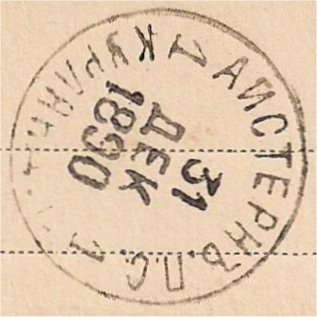 According the handbook of Harry v. Hofmann (part I, p. 98) this is the only standard Russian postmark of АЙСТЕРНЪ [AISTERN], used January 14, 1881 – August 28, 1893.
At the bottom is indicated the government КУРЛ Г. (KURL G.), short for КУРЛЯНДСКАЯ (KURLYANDSKAYA) ГУБЕРНIЯ (GUBERNIYA), Courland Government.
In the classification of the EESTI-handbook this postmark with gubernia below is type 5.
Subdivision: type 5A (without numbers at sides) and -as here- type 5B (single circle with numbers at sides). There is a further subdivision of 5B:
5B1: П.К.
5B2: П.О.
5B3: П.С.
So the postmark here with П.С. is type 5B3: a coach station.
П.С. is short for ПОЧТОВАЯ СТАНЦIЯ [ POCHTOVAYA STANTSIYA], Post Station (coach).
In present Latvia Aistere is a very little village, according information of the Parish council 29 inhabitants in 2005. The village is located something north-east of Liepāja, part of the Tadaiķu Parish, Durbes County. There is a country house, Aisteres Manor with park, 1850-1870.