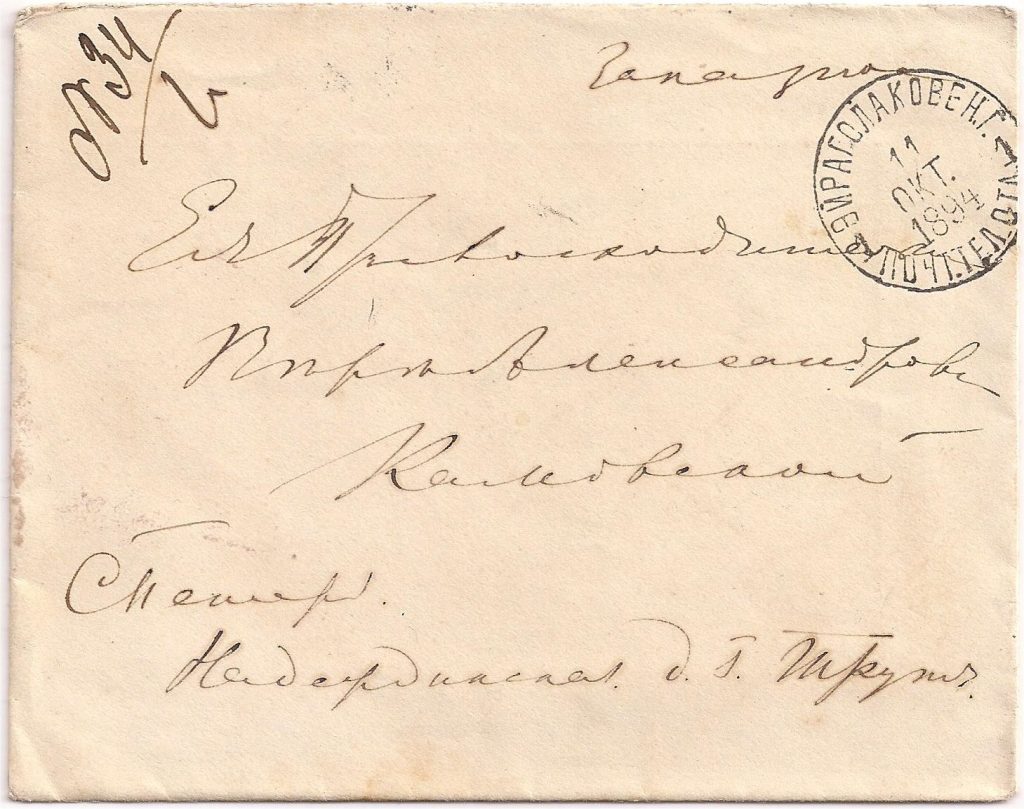 This cover has the postmark ЭЙРАГОЛА [EHIRAGOLA], now the Lithuanian place Ariagola in central Lithuania.The German indication of this place is Eroglen, the Polish indication is Ejragoła. There are more names for this place – www.jewishfamilyhistory.org/ariogala.htm -: Eragala (Yiddish), Ragala (Yiddish), Hoyragola (18th century Grand Duchy of Lithuania), Iragola, Ariogalos, Ragola, Ragole.
The EESTI-handbook of Hurt and Ojaste is the handbook about Estonia, but the classification of circular date-stamps is also useful for Lithuania in tsarist times.
In this classification this postmark of Ariogala is type 6: gubernia (when given) at top and the type post office below. Here we can distinguish date in three lines, month in letters, with gubernia (type 6A), same type but no indication of Gubernia (type 6B).
So this is type 6A – we see the indication for the gubernia- : КОВЕН. Г. [KOVEN. G], short for КОВЕНСКОЙ ГУБЕРНIИ [KOVENSKOI GUBERNII].
Circular postmarks of Ariogala or ЭЙРАГОЛА [EHIRAGOLA] according the handbook of Fugalevič:
Two postmarks type 6A, serial number 1 (large, on this letter) and serialnumber 2 (smaller)
1 postmark type 7A1, double circle date-stamp, 7A: with gubernia indication, 7A1: * * a etc.. The reported postmark has as serial letter the second script letter of the Cyrillic
= Б [B]
The reported double circle postmark is a 'small' one, so probably there is used also a 'large' double circle postmark with serialletter a.<BR>
According circular no. 9 of 3 February 1903, the introduction of the double-ring postmarks, every post office must have postmarks of two sized, a large for cancelling mail and the smaller for receipts.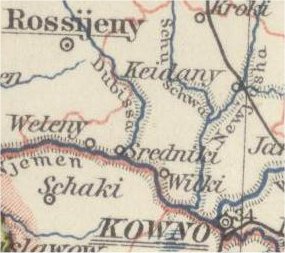 Here is showed a detail of the map 'Russische Ostsee-Provinzen' from from the encyclopedia 'Meyers Konversations-Lexicon', 6e Aufl., 1905-1909. Ariogala is located north of Kaunas (Kowno). On this map Ariogala is not indicated, but the river Dubissa (Polish name, in Lithuanian Dubysa) is indicated: this river flows through the town. Ariogala is located approximately the height of Kėdainiai (Keidany).