On August 20 , 1991, Estonia declared its independence and the river Narva became then an international border. Between Narva and Ivangorad are some bridges: a footbridge under the Kreenholm island, more downstream the Tallinn-St.Petersburg railwaybridge and most downstream the highway-bridge, just under the forts. This last bridge is the 'Friendship-bridge', contructed in 1960, but the relations are something complicated in Narva. The population of Narva consists largely of ethnic Russians.
In the Constitution of 1992 the border of the Treaty of Tartu (1920) is seen as the legal boundary. The Russian Federation considers the border between the former Sovjet Republics as border, so with Ivangorad en Petsjory (Petseri) as Russian territory.
There are in the beginning also used converted Russian postmarks. On the cover here below: very clear, a former Soviet postmark. Type 3 according the handbook of Martin Bechstedt. Type is reported with serial letters a, b, c, d, e and f (this cover).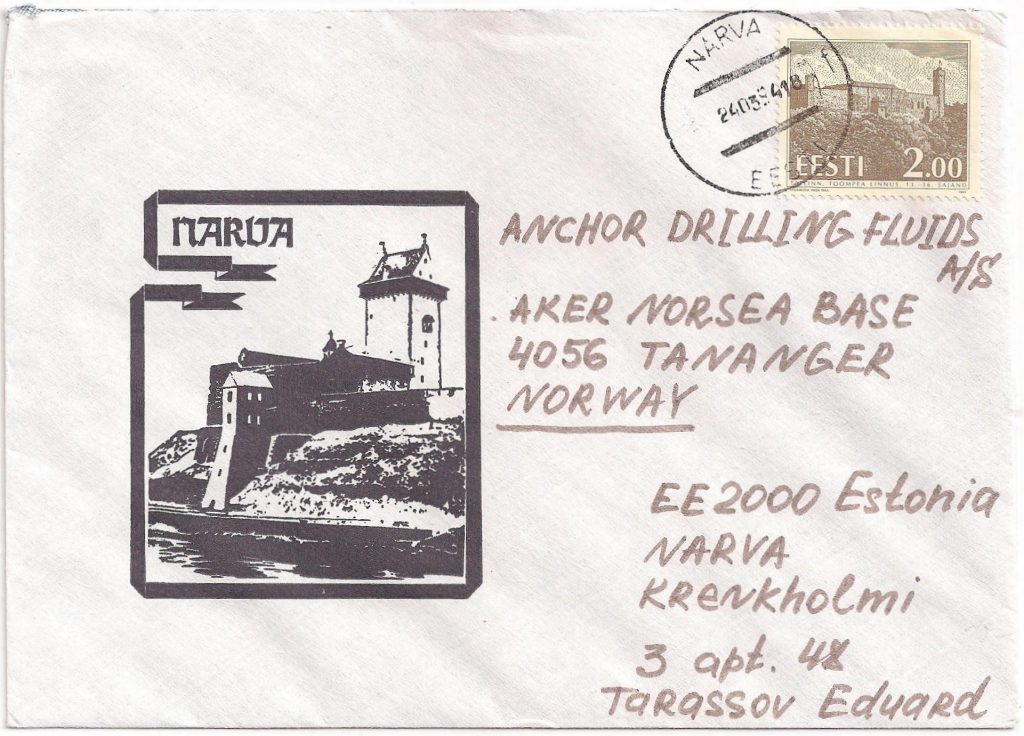 On the cover below is used a modern postmark of the Estonian post. A steel cancel with EESTI: type 6 or 7 of the handbook. Here type 6 (type 7 we find after 2.5.2001): little stars or points, diameter 23,5 /24 mm. In Narva is used type 6 with serials a, b, c, d, e, g, h, i and k. Type 7 is used in Narva with serials f, l and F. You can also collect Narva 1, 2, 3, 5 and 6.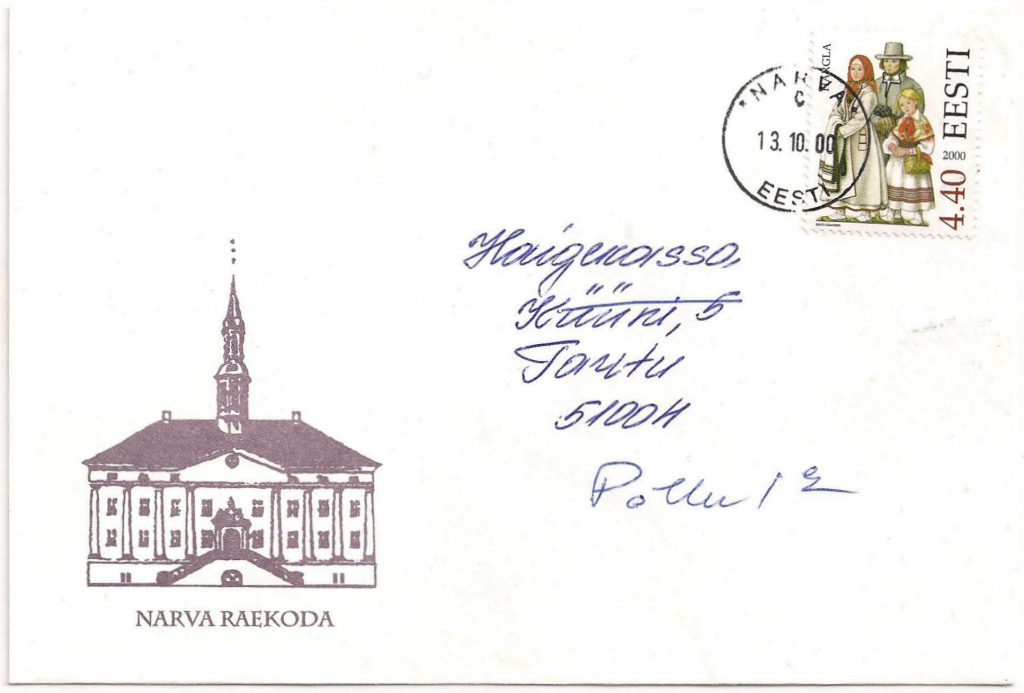 After the privatization of the Estonian post, new postmarks come in use from October 2002, type 8 an9, with the indication of the company: AS EESTI POST (AKTIESELTS EESTI POST). Type 8 with stars hand-engraved.
After 25.5.2004 type 9: new postmarks with more regular stars and distance AS EESTI POST from the circle smaller (< 1 mm). In Narva the postmark with serial d: only reported as type 8.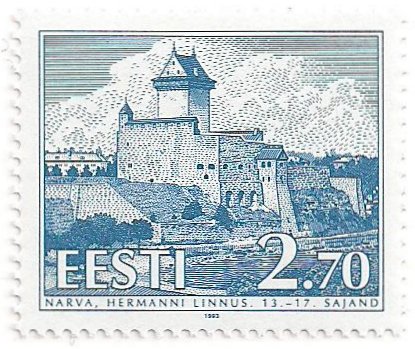 The post of the Republic of Estonia (1991-) has also issued stamps relating to Narva: Mi. 218 with the Hermann Castle, issued December 10, 1993, and Mi. 617. Also on Mi. 617 is the picture of the castle. This last stamp is self-adhesive and with ornamental field, issued on May 22, 2008. The indicated value is both in Estonian Kroon and in Euro.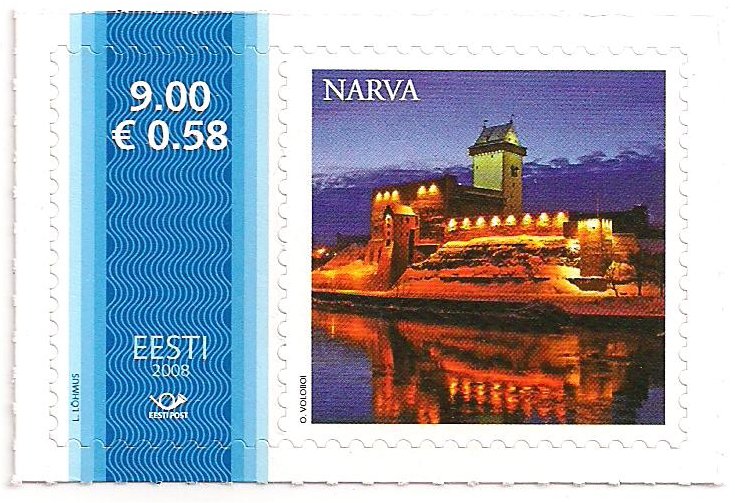 In 2009, 10 July, a stamp is issued with the Alexander's Cathedral (Estonian: Aleksandri Suurkirik) of the Estonian Evangelical Lutheran Church in Narva: Mi. 642.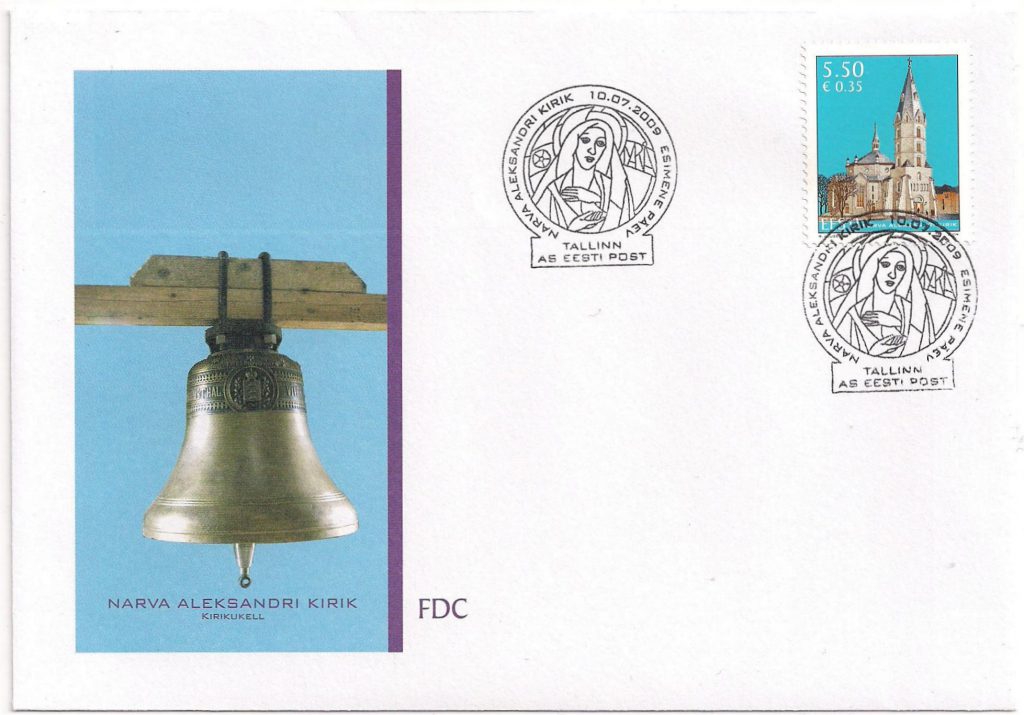 There is also a postal stationery – postcard – with the coat of arms of Narva as imprinted stamp. The Herman castle is also shown on the address side.