The city of Narva is located in northeast Estonia, on the border with Russia. It is an important city -third of Estonia- and can be considered as the center of the Russian minority.
Narva is located on river with the same name and the river is now the border with Russia.
On the other side lies the Russian Ivangorad. On the map in Baedeker -1912 – (see below) we see at this place on the right bank the district 'Iwangorodskij Vorstadt.'
On both sides there is a fort. The fort on the side of Narva in present form was built by the Swedes, called Herman Castle (Hermanni linnus).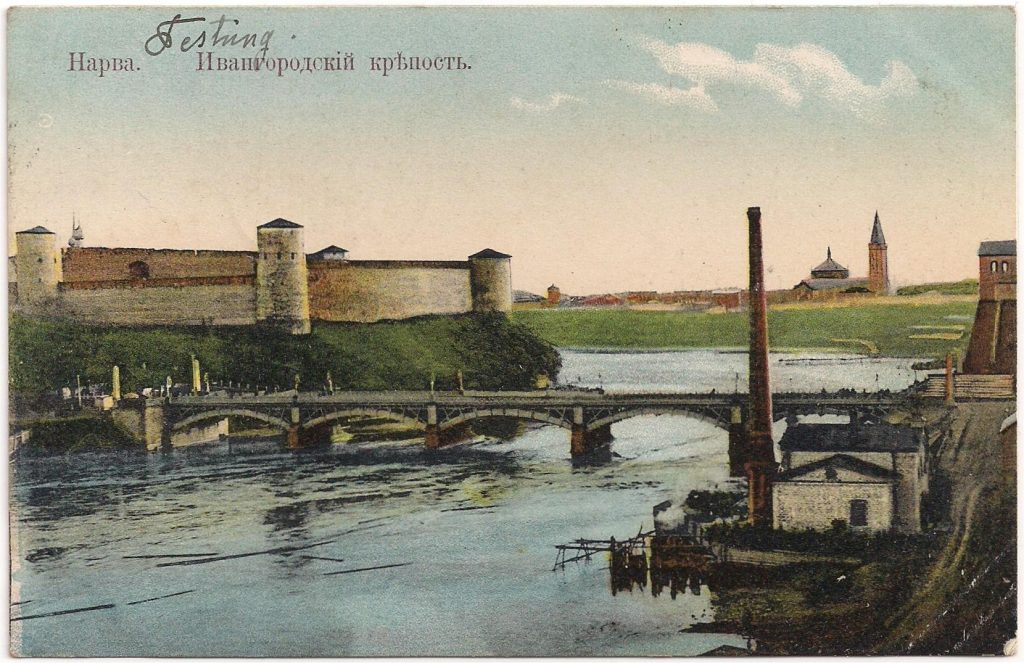 During the first Estonian Republic (1918-1940) Ivangorad with this fort was part of the Estonian Narva.
This card is sent from МЕРЕКЮЛЪ ЭСТЛ. (MERREKYUL EHST.). This place was therefore in the Government of Estonia. The current Estonian name Meriküla. Meriküla is located in northeastern Estonia, near Narva. The German name is Merrekühl.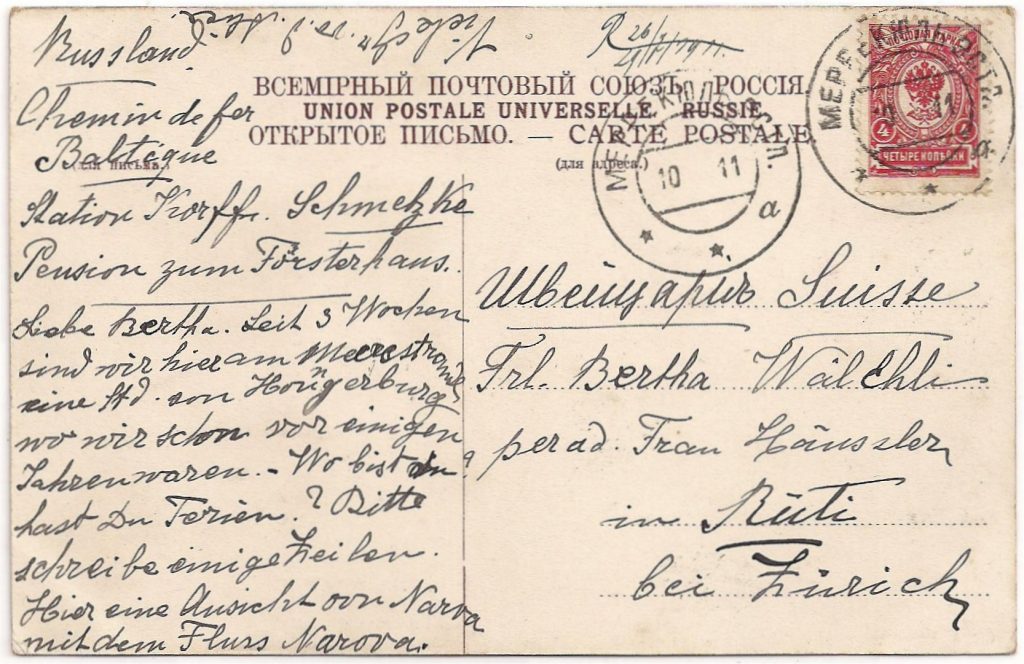 The fortresses
The history of the forts on both sides, also indicates the turbulent history of this area. Narva was the beginning of the 13th century an important border river, between Livonia and the Republic of Novgorod. The castle of Narva was founded in the second half of the 13th century, under the Danish rule of northern Estonia. Narva received city rights in 1345. In 1346 the castle and the town of Narva was by the Danish king sold to the Livonian Order.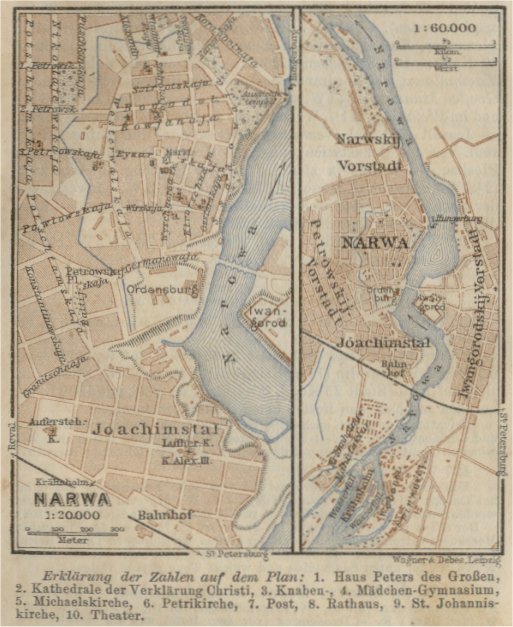 Map from: Baedeker 1912, p. 78.
Russland nebst Teheran, Port Arthur, Peking : Handbuch für Reisende / von Karl Baedeker. – 1912.
The fortress of Ivangorod was built in 1492 and -after completion- named after Ivan III Vasilevitsj. He was a prince of the Grand Principality of Muscovy between 1462 and 1505 and was nicknamed 'the Great'. He captured Novgorod, introduced the two-headed eagle as a symbol of the empire, and broke the ties with the Golden Horde, the Tatars. In 1558 – with the Livonian War, Narva became Russian, but in 1581 Narva was again Swedish. The Russians have made an attempt to recapture the city during the Swedish-Russian War (1590-1595), but that was unsuccessful. The defense of the city was greatly expanded during the Swedish period and became the strongest in Northern-Europe. Between 1581-1590 and 1612-1704 Ivangorod was also Swedish area. In 1704 -during the Great Northern War, Narva became  again Russian under Tsar Peter the Great. The bastions were renovated and Narva remained a Russian fortress until 1863.